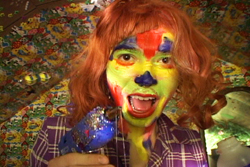 Still from video A Family Finds Entertainment (2007)
In the past I have researched artists that I really respected and enjoyed: Anne Hamilton, Christian Marclay, Brian Eno. But none of these artists even come close to the kind of appreciation and sheer awe I have gained from researching the work of
Ryan Trecartin
. Who IS this person? I would not be surprised if somebody told me that he landed on earth in a spacecraft. Since researching him my self-esteem and artistic motivation have both been flushed down the toilet. Although I completely respect and idolize him, I also envy him in a way, for possessing such a beautiful and brilliant vision.
His art speaks to and critiques my generation: the kids who can't remember a life without computers. He presents a cynical view on the hilarity of the internet-culture-playground that we have grown up with. He realizes that living our cyber-lives has serious consequences on our actual lives and relationships. He is not the first person to have realized this, definitely, but he throws this message at us in a way that is so subtle we might think we are watching just another
Tim and Eric
concoction, or a reality TV show on acid. Through his use of fast-paced editing, avant-garde sets, unintelligible narratives, and colorful costumes, he gives us a daunting view of what might become of us if we don't take the logic of the internet out of our real lives. His characters seem like they are desperately searching for meaningful relationships while all the time battling with severe ADD. They are some of the most truthful creations I have seen in a very long time. I enjoyed researching his work because it so closely resembles the message I was trying to create with my Facebook Project. Check out his work on the link attached to his name above.